Landscaping Maintenance
Landscaping Maintenance

and landscaping repair work
Landscaping Maintenance and repair work for any landscaped area will maintain the look and design and save expensive replacement costs. Hardscape and Softscape are the 2 elements used in landscaping and together form a landscape design.
Hardscape refers to the structure of the landscape design, such as retaining walls, paved areas, driveways, stairs, irrigation, drainage, walkways and features like ponds, statues, stones and rocks. Softscape refers to everything else, such as soils, lawns, plants, flowers and mulches.
Our team at Gardeners Canberra deal with the softscape maintenance which includes flowers, plants, shrubs, trees, flower beds, planting, mowing, trimming, aerating, herbicide and pesticide treatments and mulching.
Landscapers Canberra deal with the maintenance and repair work of the hardscape areas to maintain the appearance and longevity of your garden designs.
Maintenance and Landscaping repairs: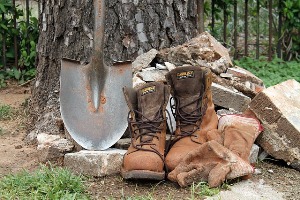 Domestic, Body Corporate and Commercial.
Expansion joints – replacing expansion and polyurethane joints.
Paving – Loose and uneven pavers, broken or chipped pavers, tree root damage, water pooling, gap sanding.
Concrete – cracked or broken, lifted, sunken, tree root damage, re-sealing.
Driveways – paved and concrete.
Pathways – paved and concrete.
Retaining Walls – loose or fallen rocks, uneven posts, rotten timber, replace sleepers or posts, new mortar between rocks.
Stone re- pitching – replacing rocks into wall with new mortar
Swimming pool paving and pool coping replacement.
Irrigation systems – replacement of valves, solenoids, piping and sprinklers.
Drainage and stormwater for retaining walls and paving.
Maintenance Packages:
These packages are designed for body corporate, commercial buildings and  domestic residents. We can incorporate both hardscape and softscape landscape maintenance work into a single package.
We only offer 20 packages per annum to maintain quality control & time allocation.
2 people onsite for a minimum of 2 hours per visit with time allocated outside of this for travel to site, waste disposal and collection of products.
Customisable maintenance packages on a weekly, fortnightly or monthly basis priced between $8 760.00 and $12 760.00 per annum inclusive of GST.
Packages include $760.00 per annum of landscaping repair or replacement products.
Landscapers Canberra provides a range of services for your Canberra Landscaping and Gardening requirements.
Do you need maintenance for a corporate building?
We repair all hardscape maintenance issues from paving to retaining walls to fences. Single visits or regular maintenance schedule.
Do you need paving repairs?
We specialise in hardscape maintenance including segmental paving repair for pathways, driveway and patio areas. Rigid paving with grouted joints such as swimming pool paving repair and cobblestone paving repair.
Do you need retaining wall repairs?
We do stone wall maintenance repairs on rock retaining walls such as re-pitching stones and re-mortaring.
Do you need fencing repairs?
We can repair or replace fences and gates for all maintenance issues in pool fencing and colorbond fencing.