Driveway Construction
Driveway Construction – Design and construction of new driveways
Driveway Construction from the ground up. Design and construction of new driveways and or alteration to existing driveways, driveway repair and driveway maintenance. Landscapers Canberra, a locally owned driveways construction business, servicing the ACT in driveway paving and concrete driveway construction.
Landscapers Canberra operates in specialised teams with the intentions to provide professional and courteous service to residences in the Canberra Region.
Our clients are both commercial and domestic customers having local, national and international property interests in Canberra.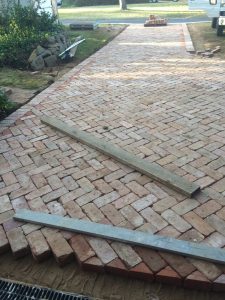 Driveway Construction fact sheet from ACT local Government
Segmental Paved Driveways

,
pavers on a compacted base, bedding sand with sand swept into joints between pavers.
80mm thick brick size paver e.g.
Recycled Canberra red bricks 230mm x 115mm x 80mm.
Concrete brick paver 230mm x 115mm x 80mm.
Excavation 300mm deep.
Base preparation and sand bedding layer.
Gap sand a silicone based sand swept into gaps and over joints.
Site clean up of all waste.
Rigid Paved Driveways,
rigid paved driveways are on a concrete base with grouted joints between pavers and expansion joints.
Excavation 300mm deep.
Reinforced concrete slab
Cement mortar layer.
Cobblestone.
Stone paver.
Concrete Driveways Construction,

concrete driveways and expansion joints.
Excavation 200mm deep
Plain grey 150mm thick concrete
Coloured 150mm thick concrete
Exposed aggregate 150mm thick concrete
JPB Group Canberra provides a range of services for your construction and landscaping requirements. Contact the us for a free quote on your requirements Excavation, Landscaping, Concreting, Paving, Retaining walls, Fencing, Maintenance and Gardening.