Landscapers Canberra
Landscapers Canberra
landscaping Canberra for the last decade.
Landscapers Canberra is your local business for landscaping Canberra. Our team can deliver the design, supply and installation of an area with a service that finishes on schedule. We can take on individual facets of landscaping or complete the entire works.
Excavation. Preparation works for paving, concrete driveways, footpath. Site cut for retaining wall works. Cut and fill for landscaping. Spreading and moving of soils and mulches. Disposal of rocks and soils.

Landscapers Canberra

Landscapers individual teams for the installation of landscape products and materials.
Landscape Gardener maintaining landscaped grounds.
Paving and Pavers the supply and installation of driveways, patio areas and paths in Concrete pavers, Clay pavers, Travertine pavers, Bluestone pavers.
Retaining Walls the supply and installation for retaining walls, Rockwalls, Stone walls, Concrete sleeper walls, Garden walls and steps.
Fences and Fencing the supply and installation for Pool fences, Glass fences, Colorbond fences and gates.
Landscaping Maintenance
Landscaping maintenance and repair work for hardscape areas. Driveways, footpaths, paved areas, swimming pool coping, rock walls, retaining walls and fences. Hardscape maintenance replacing loose or broken pavers, re-sanding around paving, retaining wall repair work, re-pointing of rock walls, replacing sleepers, resealing paving and concrete, replacing fence panels.
Landscape maintenance and repair works for softscape areas, gardens, plants and lawns. Softscape maintenance hedging, pruning, planting, mowing of lawns, fertilising and herbicide treatments.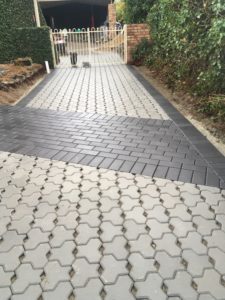 Driveway Construction
Driveway construction is the provision of a new driveway. Hard surface materials such as pavers, cobblestones or concrete are the popular choice. There is a variety of pavers in size and colours that are suitable for a new driveway. Concrete driveways are a minimum 150mm of reinforced concrete. Cobblestone driveways are a combination of both.
Turf Canberra
Turf Canberra supply and installation for new rolled turf lawns or seeded lawns. For new lawn areas or replacing an existing lawn we remove 100mm of old lawn and waste soil and replace with new turf soil and rolled lawn or seeded lawn on top.
Landscaping Canberra with a passion.
Landscaping covers a variety services, please look through our service pages to see the areas we specialise in.